Welcome to our blog, where we provide expert insights into relationship advice, love, intimacy, and self-awareness. Our goal is to empower you with valuable knowledge and guidance, enhancing your understanding of these crucial aspects of life. By making your research workflow efficient and enjoyable, we aim to support you on your journey toward nurturing fulfilling relationships and personal growth.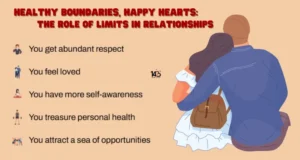 Healthy Boundaries, Happy Hearts: The Role of Limits in Relationships explores how setting and respecting boundaries fosters healthier connections and emotional well-being in various relationships. Respect and Self-Worth Creating boundaries demonstrates self-respect and acknowledgment of personal needs. This act effectively conveys one's inherent self-worth and imparts valuable lessons on treating them considerately. Boundaries essentially serve
Read More »
Where trust blooms, understanding flourishes, and two souls become an unbreakable bond.